Trenchless Pipe Lining
Pipe Problems? Don't dig up your floors and tear out your walls to replace bad drainage pipes. Pipe Lining is a minimally invasive, cost-effective, and environmentally friendly way to rehabilitate your existing pipes without the mess of conventional repairs. Contact SD Lining Solutions today to find out more! 
What is Pipe Lining?
Trenchless pipe lining is accomplished by inserting an epoxy saturated felt tube into the pipe, inflating it, and letting it cure in place.  After the liner has cured, the result is a brand-new pipe within the old pipe. This new inner-pipe has a 50-year life use expectancy – that's almost double the life use of cast-iron.
The Pipe Lining  Process Explained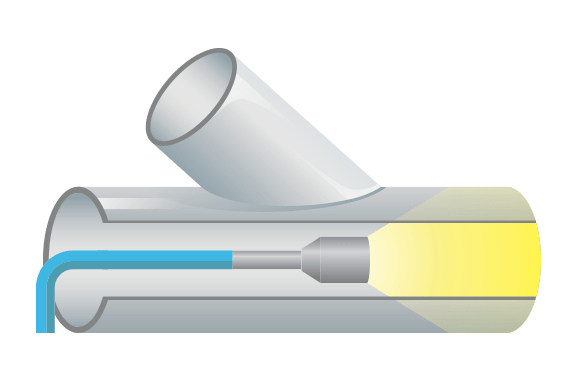 First, an initial inspection of the pipe is performed by means of a high definition, full-color, and self-leveling sewer camera. During this process, we will measure the linear footage and diameter of your pipes as well as locate and document any problems such as cracks, blockages, tree roots, etc. After the inspection, you are provided with a copy of the video, a not-to-scale drawing of your sewer's layout, a deficiency report, and a proposal to remedy any pipe problems we may have discovered.
Second, the pipes are thoroughly cleaned utilizing hydro-jetting or mechanical methods. This process removes tree roots, blockages, and scale buildup in preparation for the lining. On occasion, sewer cleaning may be all that is required to remedy pipe problems such as slow drains and blockages.
After the pipe is cleaned and the excess debris is removed, the pipe can now be lined. The felt liner is measured and cut to the dimensions of the pipe such as length and diameter. Then the liner is saturated with two-part epoxy and inserted into the pipe either by the Inversion Method or the Pull-In-Place Method. An inflatable bladder is inflated inside of the epoxy-saturated liner, causing the liner to take the shape of the pipe while it cures in place. After the epoxy has cured, the bladder is removed and a brand-new pipe is left in place inside of the existing one.
Finally, after the pipe has been lined, the branch lines that were covered over will have to be robotically reinstated or reopened with our state-of-the-art reinstatement equipment. Robotic reinstatement technology allows us to use one continuous liner from one end of the pipe to the other ensuring that the fittings are protected, as well.
No Digging or Destruction

Save 30%- 40%

Environmentally Friendly
Preserve Interior Finishes

Increased Flow Capacity

No Hazardous Waste
50 Year Life Use

Fast Repairs
Which Types of Pipes Can Be Lined?
Type of Pipe
Vertical Stacks

Branch Lines

Underground Main Lines

Lateral Lines

Rainwater Leaders

Underground Storm Lines (2″-12″)

Pipe Material

Cast Iron

Clay

PVC and other plastics

Concrete

Copper DWV

Steel
Type of Building
Single-Family Homes

Condominiums

Industrial Buildings

Commercial Buildings

Historical Buildings

Hospitals/Medical Facilities
Who We Are
What sets SD Pipe Solutions apart from other top pipe lining companies is the attention we put into the details that go along with the pipe lining process. We specialize in pipe repair and restoration services. We make sure to offer a minimally disruptive, cost-effective, Earth-friendly way to restore pipes without the disruptions associated with traditional repair methods. Here are the other services that you can expect from SD Lining Solutions
Pipe Repair

Pipe Camera Inspection

Hydro Jetting

Pipe Coating

Pipe Descaling
Root Removal

Liner Reinstatement

Roof Drains

Line Locating

Sump Pumps
Who We Serve
We serve residential and commercial clients in need of pipe repair that's done in a less disruptive way. We offer this service in the following areas that we serve:
Northwest Iowa

Southwest Minnesota

Northeast Nebraska
Start with a Free, No-Obligation Estimate
At SD Lining Solutions, our trained technicians will take the time to explain the process and answer the question. We will then make sure that the work is done as quickly, efficiently, and effectively as possible. Since 2016, our trusted local team has been providing top-quality pipe lining and hydro jetting services. During your initial consultation with us, we will get you started with a free, no-obligation estimate. Contact us today for reliable pipe repair and restoration services, such as: